If Not You... WHO?
America, even from its earliest days, was forged by the strength of brave and dependable individuals, volunteering their time and talents for the greater good. From the patriots of George Washington's volunteer army to the courageous heroes at Ground Zero in Manhattan, our country was born, built and has persevered through the selfless actions of ordinary people doing  extraordinary things in times of need.   Today, however, within our own region, and in our own communities, we face a crisis that threatens to compromise our quality of life and seriously endanger those who need our help the most! Like many regions throughout the nation, we face a critical shortage of trained emergency medical services (EMS) professionals.  We are recruiting dependable volunteers to "Answer the Call."  Please read the following information to learn about how YOU can make a difference!! Consider joining the respected ranks of EMS professionals within your community!!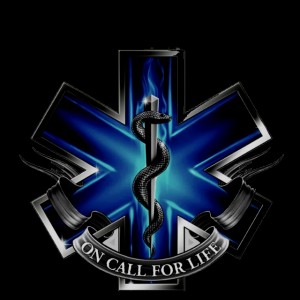 Ordinary People Doing Extraordinary Things
Levels of Certification
Emergency Medical Responder (EMR)
The Emergency Medical Responder's primary focus is to initiate immediate lifesaving care to critical patients in need. This individual must possess the basic knowledge and skills to provide lifesaving interventions while awaiting additional EMS response, and to assist higher level personnel at the scene and during transport. EMR is an entry-level position that functions as part of a comprehensive EMS response, under medical oversight. EMR's perform basic interventions with minimal equipment such as administering oxygen and performing the initial patient assessment.
Emergency Medical Technician (EMT)
The primary focus of the Emergency Medical Technician (EMT) is to initiate intermediate lifesaving care to critical patients in need. This individual must possess the basic knowledge and skills necessary to provide lifesaving interventions while awaiting additional EMS response and to assist higher level personnel at the scene and during transport.  EMT is an entry-level position.  EMT's perform basic interventions such as injury treatment, splinting, and extrication of entrapped patients.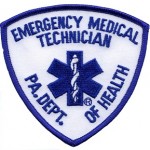 Advanced EMT (AEMT)
The Advanced EMT position is a new level of training that is GREAT for EMT's looking to advance their career!! The AEMT can administer medications, perform advanced airway maneuvers, and transmit heart rhythm readings to the emergency department. In order to be certified as an Advanced EMT you must first be certified as an EMT.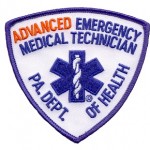 Paramedic
The Paramedic is a health professional whose primary focus is to provide advanced emergency medical care for critical and emergent patients who request assistance through the 911 system or non-emergency channel.  This individual possesses the complex knoledge and skills necesary to provide patient care and transportation. Advanced skills, such as heart monitoring, and intravenous theray (IV) are taught at this level. To become certified as a paramedic, you must be certified first as an EMT or AEMT>
PA Pre-Hospital RN (PHRN)
If you are a registered nurse (RN) in Pennsylvania and you are 18 years of age or older, you are eligible to start the process to become a pre-hospital registered nurse (PHRN) to work or volunteer on the ambulance. As a PHRN, you will be able to apply your nursing skills to administer life-saving medications, monitor a patient's heart rhythm, and interact with other pre-hospital practitioners as part of a life-saving team.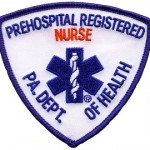 Pre-Hospital Physician Extender (PHPE)
If you are a physician assistant (PA) in Pennsylvania, you are eligible to take the PA Pre-Hospital Physician Extender exam. Contact us for more information!!!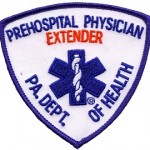 Types of EMS
Basic Life Support
Basic Life Support (BLS) is the foundation upon which all other levels of prehospital care is built. BLS refers to a skill set of basic, life-saving interventions that can be performed until a higher level of prehospital care arrives, or the patient receives definitive care at a hospital.
Basic Life Support Skills Include:
Initial assessment of patient condition
Cardiopulmonary Resuscitation (CPR) with basic airway management and AED defibrillation
Oxygen Administration
Splinting and Immobilization of bones and joints.
Bleeding control
Basic medication administration and assistance
Other basic life-saving skills
Advanced Life Support
Advanced Life Support (ALS) includes all BLS skills along with adding other more advanced life saving care that can be administered to a patient until they can receive definitive care at a hospital.
Advanced Life Support Skills Include:
Continuing and advanced patient assessment of condition
Advanced airway management including intubation and alternative airway devices
Heart monitoring and interventions including cardiac pacing, defibrillation, and cardioversion
IV therapy and medication administration
Blood glucose monitoring
Advanced trauma care
Other advanced life-saving skills
Frequently Asked Questions
Q: How do I get started in EMS?
A: All EMS Training programs are conducted through Training Institutes that are accredited through the PA Department of Health. There are training institutes located throughout the Commonwealth.
Q: What kind of opportunities will becoming an EMS Practitioner open up for me?
A: From volunteering with your community to working with a paid service, EMS opens all kinds of opportunities. Working as a dispatcher, becoming a member of a rescue service, working within a hospital setting, a medical helicopter service, or saving lives on the streets of your community all start with becoming involved with your local EMS agency.
Q: How do I know if EMS is right for me?
A: An EMS professional is caring, compassionate, and is able to gain a patient's trust. They communicate well, have fast instincts, and are able to think fast to make quick decisions.
Q: Is it fun to be able to drive an ambulance?
A: We can't lie; it IS fun driving the ambulance! But we also take the responsibility VERY SERIOUSLY…  EMS Practitioners are required to take an Emergency Vehicle Operators Course (EVOC) in order to learn how to handle the ambulance in all kinds of weather and possible driving conditions. In addition, EMS Personnel are required to take yearly training to hone their driving skills.
Q: Once I become certified as an EMS Practitioner, what do I need to maintain my certification?
A: Once certified, all EMS practitioners must complete continuing education and meet re-registration requirements to maintain their certification. There are many continuing education classes conducted in the area, along with computer-based courses that you can complete at home. You will also be required to complete a healthcare level CPR course every two years.
Q: What is the best part of your job?
A: Helping people! No question about it! As an EMS professional, you will be called to help in many different ways. From bringing new life into this world or holding the hand of an elderly patient, new and different experiences are just around the corner. By answering the call, you can make a difference in someone's life!!
For More Information:
Contact the Seven Mountains EMS Council at 814-355-1474 or 570-473-7834!!!
For printable resources and other recruitment/retention information please visit www.answering-the-call.us